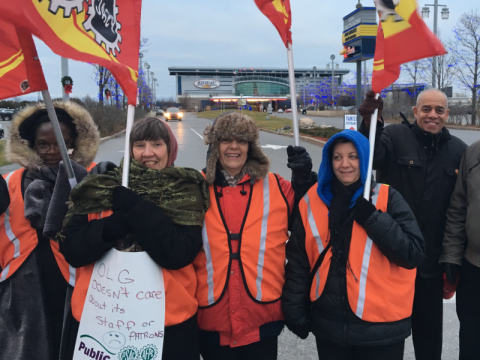 17 December 2015
Locked out workers at the Rideau Carleton Raceway Slots (RCRS) in Ottawa have overwhelmingly voted to reject the last offer from management. The last offer was presented to the workers' bargaining team on December 14 and was rejected by the team the same day. However, the team agreed to bring the offer to all union members for a vote on December 16.
Workers voted over 96% to reject the offer, which would freeze wages for the first two years of the new contract and also remove existing pension language from the current collective agreement.  
"This vote by the workers at the Slots sends a clear message to management that the current offer it has on the table is nowhere near where it has to be," said Larry Rousseau, Regional Executive Vice President for the Public Service Alliance of Canada—National Capital Region.
"It's now clear to management that virtually all workers want a better contract, with reasonable wage increases and assurances about the future of the pension plan," added Doug Marshall, President of the Union of National Employees, a component of the PSAC. "We really hope that management will return to the table as soon as possible with a fair offer."
RCRS management locked out 124 of its workers, represented by the Public Service Alliance of Canada, on December 15. The workers served in a variety of roles, including as parking attendants, housekeepers, slot attendants, slot technicians, cashiers and money room clerks.