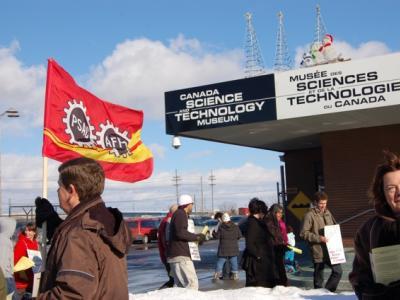 On 15 February 2012, the Canada Industrial Relations Board (CIRB) issued a bargaining certificate for casual and student employees working at the Canada Science and Technology Museums Corporation.
Casual employees constitute close to a quarter of the Museum Corporation's workforce, growing from just three in early 1990s to 70 today. These workers will now join the existing Public Service Alliance of Canada (PSAC) local at the Museums Corporation.
"We are thrilled to have museum casuals join our local, and consequently our current bargaining process," said Bryan Casey, president of PSAC Local 70401 at the museum. "Casual workers perform some of the same tasks as permanent staff and deserve fair and equitable working conditions."
"Over time it became clear to me that management would take advantage of the fact that we are the only workers at the museums without union protection. We were flipped back and forth between different types of contracts, and our wages and conditions would differ accordingly," said a newly unionized casual worker. "Now that we have joined our co-workers with the PSAC, we'll have a chance to bargain for fair conditions as a group."
The Museums Corporation encompasses the Canada Agriculture Museum, the Canada Aviation and Space Museum and the Canada Science and Technology Museum. "This campaign was particularly challenging for our small team given that workers were located at three different corners of the city," said contract organizer Ben Saifer.
The CIRB's confirmation comes at a critical time. Since an application for the certificate was filed in early December 2011, the Museums Corporation laid off 17 unionized indeterminate employees who were in the middle of a bargaining round and chose to not renew the contracts of seven casuals. The layoff of indeterminate employees, carried out in violation of the collective agreement, is currently being grieved by the PSAC.
Larry Rousseau, Regional Executive Vice President for the PSAC in the National Capital Region, affirmed that: "The PSAC will continue its organizing efforts in the region in the coming year and, through this work, we will defend worker rights in public and private institutions."
Since 2004, the PSAC has organized more than 30,000 workers in various sectors across Canada.