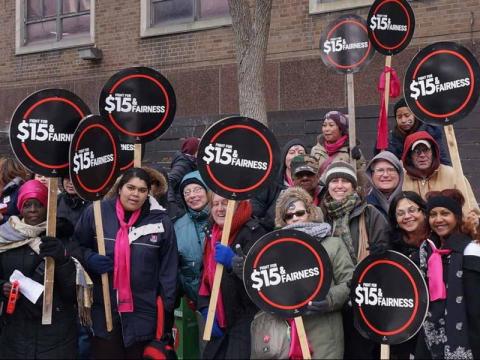 4 September 2017, Ottawa — The Public Service Alliance of Canada — National Capital Region is marking this Labour Day by calling on members of Ontario's Legislative Assembly to quickly pass labour reforms contained in Bill 148, the Fair Workplaces, Better Jobs Act. Introduced by Kathleen Wynne's Liberals this past spring following an intense grassroots campaign, the legislation is a big step forward for workers' rights in the province. In addition to quickly raising the minimum wage to $15 by January 2019, the proposed law also includes a number of new pro-worker standards, such as:
10 emergency leave days for all workers (no longer only applies to organizations with 50+ employees), two of which are paid, with no requirement for a doctor's note
improved on-call and scheduling provisions (e.g., providing 3 hours of pay when a shift is cancelled with less than 48 hours' notice)
a third week of vacation after 5 years of service
expansion of card-check for union organizing campaigns to new sectors
While the changes contained in Bill 148 are critical to ensuring workers in Ontario continue to share in the benefits of the province's increasing wealth and economic growth, they are also a way to make up for stagnant working conditions of the past. For instance, between 1995 and 2015, the minimum wage in Ontario was frozen for 12 of those years despite increases in the cost of living due to inflation.
Businesses seeking to derail reforms
In a poll published by Forum Research last fall, nearly two thirds of Canadians surveyed supported a national minimum wage of $15 per hour. Nevertheless, the business lobby has been busy over the summer painting doomsday scenarios about how a $15 wage by 2019 will devastate the economy. This is nonsense. Quite the contrary, a higher minimum wage ensures that workers have more money in their pockets to spend at local businesses, which increases demand for goods and services. And since all Ontario businesses must increase their employees' salaries at the same time, the higher wage ensures that all businesses play on a level field, in contrast to the current situation, where businesses that pay workers more may operate at a disadvantage to those who pay less. Indeed, scores of economists have stated publicly that historical evidence shows that raising Ontario's minimum wage is the right thing to do for a strong, healthy and fair economy.
Let's win this!
To Ontario's workers, happy Labour Day! And stay tuned to PSAC NCR over the coming weeks as we launch our campaign to defeat the business lobby and strengthen and pass Bill 148 this fall.
Resources: